×
Pure picking
Take in the sights and sounds of bluegrass jams from the Lowcountry to the Upstate in our exclusive video.
×
The "house band" starts another Saturday night jam at Guy and Tina's Bluegrass Pickin' Parlor with a rendition of "Hot Corn, Cold Corn." From left to right, that's Aaron Bodiford on banjo, Graham Chriscoe on mandolin, Will Faulk on guitar, Guy Faulk on vocals and Gene White on guitar.
Photo by Mic Smith
×
Music teacher Gilbert Nelson, a member of Broad River Electric Cooperative, hosts guided jam sessions in the Spartanburg area. His goal: Get "closet pickers" out of the house and playing in public.
Photo by Jonathan Sharpe
×
Keisler Tanner, better known as K.T., leads the jam at Homespun Bluegrass in downtown Chesnee.
Photo by Jonathan Sharpe
×
Greg Farmer occasionally sits in to wow everyone with his creative solos.
Photo by Jonathan Sharpe
×
For Laurens Electric Cooperative member Harold Clayton, renovating Owings Music Hall was a labor of love.
Photo by Jonathan Sharpe
×
Owings Music Hall is the location for Saturday night stage shows hosted by Harold Clayton.
Photo by Jonathan Sharpe
×
Randy Lucas, winner of the 1997 National Banjo Championship, runs through a solo on stage at Bill's Pickin' Parlor.
Photo by Jonathan Sharpe
×
The West Columbia music store and bluegrass concert hall is owned and operated by Willie Wells, the son of founder Bill Wells.
Photo by Jonathan Sharpe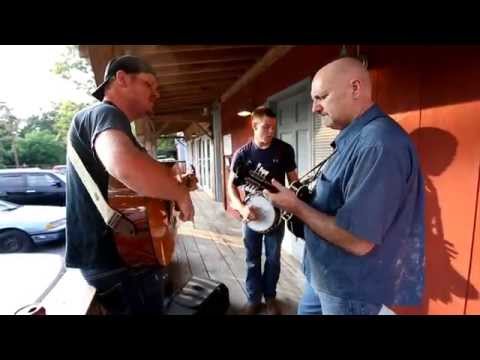 It started beside the railroad tracks in the tiny town of Bethera, down a dirt driveway called Pickin' Parlor Lane, in a one-room shack, beneath a dozen ceiling fans and two dozen mounted deer antlers, on one of the old couches arranged like pews in front of the stage.
That's where I was when I found myself hand clapping and foot stomping at Guy and Tina's Bluegrass Pickin' Parlor, watching a band of Berkeley Electric Cooperative members launch into a fiery rendition of "Always Marry an Ugly Girl."
This was the first stop on my cross-state odyssey to small-town music halls, picking parlors and open-mic bluegrass jams, and Guy Faulk took the stage to recite a poetic welcome while his son, Will, strummed a guitar softly in the background.
Come on, boys / Let's make some noise / All the old folks are sleeping! / Come on down to the bluegrass parlor / Let's do a little bluegrass picking!
Guy and Tina's Bluegrass Pickin' Parlor
'The music of your heart'
It was a Saturday night, and Berkeley County's iconic picking parlor kept its usual cadence: the coffee started brewing at 4 p.m., the pickers began warming up under the shed at 5, the train hurtled by just before 6:45, and the "house band" of regulars came on at 7 with an instrumental breakdown jam.
One of the reasons things seem to run so smoothly at a picking parlor—which can be defined as just about any old place where string musicians gather to play folk music—is that bluegrass jams are essentially a democratic process. Everyone has a "voice" when taking turns for a solo. Everyone brings a little food. Sometimes a guitarist will step down to run the sound for a little while. Everyone will try his or her hand at fixing the lights.
Will Faulk summarizes the golden rule of picking parlors nicely: "Whoever comes, comes. Whoever wants to play, plays. That's how it's always been. That's how it's always going to be."
Most songs played at Guy and Tina's, however, are not what you'd call pure bluegrass—there wasn't, for instance, a fiddle in the house that night—but are instead closer to old gospel and folk music played in the traditional format of verse-chorus-solo, with bluegrass instrumentation.
And this isn't a concert atmosphere. Guy and Tina have been running the place for 30 years and don't allow the consumption of alcohol.
"That's one reason why it's survived all these years," Will Faulk says. "Mama's been the bouncer. What we want is a good, clean place where you can have a cup of coffee and play with someone you've never played with before."
The music, besides, is intoxicating enough, especially when the pickers launch into "Foggy Mountain Breakdown" and we all start bobbing in our seats, tapping our Styrofoam cups in time, and verifying what Guy Faulk says about bluegrass.
"It's good-time-feeling music," he tells me. "It's the music of your heart."
Gilbert Nelson's Free Guided Jam
'This is the people's music'
The history of bluegrass is the history of the mountains—of old-world folk ballads transported across the Atlantic to the hills of Appalachia—so what better place to look for bluegrass jams than the Upstate?
My guide to the northern S.C. bluegrass experience was music teacher Gilbert Nelson, a Broad River Electric Cooperative member who, for the past half-decade, has been hosting weekly "guided jams" in Spartanburg, urging "closet pickers" to get off the couch and play with other musicians.
Dressed in a blue, banjo-adorned Hawaiian shirt, Nelson leads the sessions like a conductor, ensuring that anyone who wants to play a solo can play one and that novices don't get lost in too many difficult chord changes. His philosophy, shared during an impromptu guitar lesson at his home, is simple: "Most think you must get good to play with others; wise are those who know you must play with others to get good."
"This is the people's music," he says of bluegrass. "It's not written on paper. It's extemporaneous. You can develop technique—muscle skills, tone, touch, taste, timing and your theoretical knowledge—in private practice. But it's useless until you put it in context—into real-time, participating music."
I have always been a "closet picker," preferring to play solo at home, but after Guy and Tina's, I wanted to jam. And so, with Nelson's guidance, I found myself onstage at the Barnet Park amphitheater with 30 other pickers as we launched into the old folk song "Worried Man Blues." It wasn't a song I knew, but I was able to keep my eyes sharply on the "guitar billboard," aka the man who stood up and played the chords for everyone to follow.
During "Shady Grove," a song I knew well, I kept the rhythm and the chord changes, even with my eyes closed, finding for a full chorus and verse what Nelson calls "the groove"—the spell when you are neither bored nor challenged, but just there, in the flow of the moment and of the song.
It was almost enough to make me forget I had another jam that night.
Homespun Bluegrass
'Once we start, it never stops'
I left Spartanburg and hit Highway 221, heading 22 miles north to downtown Chesnee and hoping to arrive right at 7 p.m., when the Homespun Bluegrass jam was set to start. But I was five minutes late, and 15 players were already halfway through their gospel rendition of Hank Williams' "Dust on the Bible."
Of all the jams I visited, Homespun was, by all measures, a true picking parlor, complete with farm equipment décor and old men in overalls and cowboy hats singing their hearts out.
Homespun's founder and leader, Keisler Tanner, known to everyone as K.T., leads the jam by strumming a Martin guitar in perfect rhythm and seamlessly passing a vintage microphone around to the inner circle of pickers who want to play lead or sing. The whole thing is a fluid, well-timed, seemingly choreographed dance that might be described as very organized chaos. And, boy, does it sound good.
Just after 7:30 p.m., the place was packed, but I found an open seat and joined in on "Going Up the Ladder," trying to keep up with the chord changes by eyeing the player beside me. When the song was over, we launched immediately into the next one.
"We're not polished, and we're not professional, but we have a good time," K.T. says. "And once we start, it never stops."
The first two hours are gospel songs played in a bluegrass format, followed by two or more hours of what K.T. calls "anything goes" bluegrass, which allows folks of all different skill levels and ages to participate.
"There's people who come here, and you wouldn't believe the improvement," K.T. says. "They couldn't keep time in a bucket, and now they're sitting up here on the front row."
At Homespun that night, there were some hot pickers indeed—folks like dobro player Nathan Barnett and mandolinist Greg Farmer, musicians who approach every solo as a way to give new life to a song.
But one thing I learned at Homespun is that sometimes it's best to put down your instrument and just listen. On my visit, K.T. calls out a special guest from New Mexico, a lifelong railroad worker who requests a train song called "The Wreck of the Old '97."
So they play it for him, and darned if Homespun doesn't have a guy named Steve "Freight Train" Jackson who leans into the microphone during the song and belts out the best train whistle anyone has ever heard. I take that as the signal that it's time to hit the road once again.
Owings Music Hall
'I hope it don't miss a beat when I'm gone'
There are essentially two types of picking parlors. There's the "everybody gathers 'round and plays" parlor, and there is "the stage show" parlor, where musicians wait their turn to take the stage.
The Owings Music Hall Jam is the latter—a Saturday night show as regular as clockwork that begins at 6 p.m. and ends at 10 p.m., with the opportunity for up to five bands to play on stage for 45 minutes at a stretch.
Owings Music Hall is a labor of love for Dianne Culbertson, a local historian and preservationist who owns the historic building in the heart of town, and Harold Clayton, a member of Laurens Electric Cooperative, who renovated the hall at his own expense and serves as a host of the stage shows.
"It's not just entertaining yourself. It's entertaining others," Clayton says of his refusal to accept a dime for his efforts. "When I look around and see someone enjoying themselves, I'm getting paid. I'll look at her and say, 'Dianne, I'm getting paid again.' "
During my visit, multi-instrumentalist Will Clark—a local boy who got his start at Owings Music Hall—delights a packed house with what can only be called incendiary picking, though one of the sheer joys of any picking parlor is stepping outside, away from the stage show, and listening to musicians circled around in small, informal jams.
I joined a crowd gathered around banjo player Frank Eastes and dobro player Kim Ulinger on the porch, mesmerized as they played an obscure song called "Coffie Jam," a tune that Eastes had learned 30 years earlier.
As they were playing, mandolinist Lloyd Hall came out on the porch and listened, then named the song and even correctly spelled it. It was, Eastes tells me, "the first time in 25-plus years of playing that tune that I had ever met anyone who not only knew the tune, but the history of it."
Indeed, spontaneous exchanges of musical knowledge are part of the bluegrass culture—the kind of thing that gives Harold Clayton hope that the music he loves will have a home in Owings well past his lifetime.
"I hope it don't miss a beat when I'm gone," he says, looking around the place he helped build. "And I feel like it won't."
Bill's Pickin' Parlor
'It was my dad's passion'
After zigzagging 700 miles across the state to attend four different picking parlors in as many counties, I had to go to the place all bluegrass musicians sing about—home.
Bill's Pickin' Parlor is located just across the Congaree River from downtown Columbia, and it's what you might call the epicenter of South Carolina bluegrass. Nestled among a strip of retail stores, it's both a music shop and a concert hall that's played host to some of the biggest names in bluegrass, including Ralph Stanley & the Clinch Mountain Boys, the Del McCoury Band, Rhonda Vincent & the Rage, and Eddie and Martha Adcock.
But the Friday night jam is all about amateurs, with bluegrass ensembles performing on stage from 7 p.m. to 9 p.m., followed by an open jam.
The parlor is the brainchild and namesake of the late Bill Wells, a bluegrass aficionado who gave Midlands musicians a place to call home.
"My dad was always a bluegrass advocate," says current owner Willie Wells. "He opened it up to, you know, maybe sell a few accessories, but the big reason he did it was that he wanted people who played to have a place they could come jam. It was my dad's passion."
Willie Wells still keeps the Friday night jam like his dad would want it—strictly acoustic—but he's added a classic country jam on Saturday nights. This blend of the old and the new seems to be a recipe for success, as people were crowding into Bill's on the Friday night I visited. Some were deep in conversation, others were buying popcorn and Slim Jims and Blenheim Ginger Ale from the concession stand, and still others were trying out instruments in the retail store.
For Jake Lind, a 9-year-old who was strumming chords on a Gibson J-30 with an $850 price tag dangling from it, it was his first time at Bill's, and it wasn't hard to imagine him coming back in a few years, maybe to play on stage for the first time. Or maybe even to become the next Randy Lucas.
A Columbia-area native who won the 1997 National Banjo Championship, Lucas was the headline act of the evening's stage show, packing the house with his lightning-fast banjo licks and musical showmanship.
Walking from the concert hall to the retail store, I could sense a fluid connection between past and present, young and old, that would make Bill Wells proud. No one could sing about Bill's Pickin' Parlor the words of the song that Randy Lucas was belting out on stage: "What have they done with the old home place? Why did they tear it down?"
For Bill's Pickin' Parlor was, as they sometimes say in bluegrass, "a-goin.' " And it was a-goin' strong.
_____
Get There
Homespun Bluegrass: 126 West Cherokee Street, Chesnee; (864) 978-7475
Gilbert Nelson's Free Guided Jam: All Saints Church, 401 East Kennedy Street, Spartanburg; (864) 764-4830
Bill's Pickin' Parlor: 710 Meeting Street, West Columbia; (803) 796-6477
Guy and Tina's Bluegrass Pickin' Parlor: 534 Picking Parlor Lane, Bethera; (843) 336-3719
For more information on South Carolina bluegrass jams, visit here.
_____
Get More
The Carolina bluegrass all-stars: Meet some of the top musicians writer Hastings Hensel met along the way.
Pure picking: Enjoy the sights and sounds of S.C. bluegrass in our exclusive videos from the road.
Share your bluegrass experience: Tell us about your favorite S.C. picking parlor and upload a photo or three.