×
The story behind the "Chicago Typewriter"
There's usually a story (or three) behind every weapon in Ross E. Beard Jr.'s collection. In the case of the "Chicago typewriter," a 1928 Thompson submachine gun carried by infamous bank robber John Dillinger, one of the intriguing tales is how the gangster came to own the .45-caliber firearm.
"It started out as a police gun, I'm told," Beard says. "Dillinger heard they had new machine guns and bulletproof vests at the police station in Chicago. That was on Saturday. On Monday, I understand, he went down with his gang, locked the police up in their cells and took their machine guns. … That really made him public enemy No. 1."
×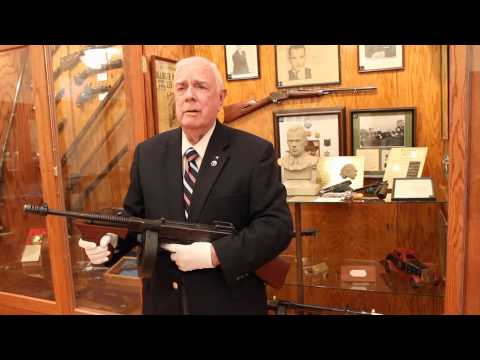 Ross E. Beard Jr.
Age: 84
Hometown: Born in Florence; currently lives in Camden
Books authored: Carbine: The Story of David Marshall Williams, a biography of the man who designed the M1 carbine rifle for American GIs during World War II
Awards received: Presented the Order of the Palmetto by the late South Carolina governor John C. West
_____
When Ross E. Beard Jr. was 10 years old, family friend Melvin Purvis—the late FBI agent who tracked down gangster John Dillinger—took a shine to the young sprout and assigned to him the heady task of caring for his rather extensive gun collection.
It was the tail end of the Great Depression, and Beard was grateful for the extra spending money. But the hours spent working on the famous G-man's gun collection and learning about weapons gave the youth something more—an unquenchable fascination with firearms that continues to this day.
Indeed, over the past seven decades, Beard has assembled his own collection of more than 1,000 guns that includes weapons once owned by Dillinger and Purvis, as well as a 15th‑century, .70-caliber matchlock rifle, a walking cane gun, an air rifle carried on the Lewis and Clark Expedition, and a nasty little device known as a Russian cigarette gun.
"Collecting guns is one of the greatest and most interesting hobbies a man can have," Beard says. "I've learned so much about the history of these weapons, and I've had the chance to meet so many wonderful people. I've enjoyed every minute of it."
He also enjoys sharing the collection. Last spring, Beard curated a selection of rare guns from his arsenal for permanent display at the Camden Archives and Museum.
"I have traveled to 21 countries and 38 states, and I have always looked for guns to add to my collection," says Beard. "And, now, at my age, it's good to know that they all have a good home."
_____
Get More
Visitors can see some of Beard's rare weapons on display at the Camden archives and museum, 1314 Broad St., in downtown Camden. Admission is free. Hours are 8 a.m. to
5 p.m. Monday–Friday and 10 a.m. to 4 p.m. Saturdays. For more information, call (803) 425-6050.