×
Nikky Finney
Nikky Finney recites "Heirloom" from her award-winning book: Head Off & Split.
×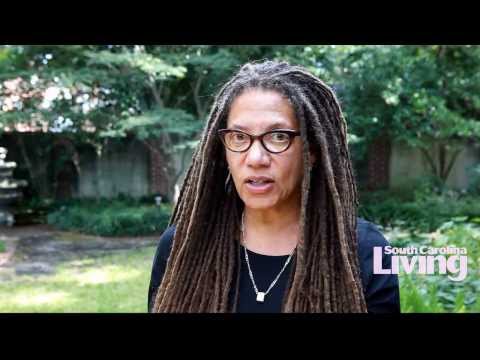 NIKKY FINNEY
Age: 56
Occupation: Poet; professor; since August 2013, the John H. Bennett Jr. Chair in Southern Letters and Creative Writing at the University of South Carolina
Most Recent Book: Head Off & Split,which won the 2011 National Book Award for poetry.
First Poem: Written at age 15, in a pocket-sized, spiral-bound notebook, while she rode a bus through her Sumter hometown. "It was the worst poem I ever wrote in my life," she recalls, laughing. "But there was a music there—there was some rhythm in the language that made me smile."
_____
Nikky Finney is not afraid to dash your expectations.
As the only daughter of noted civil rights attorney Ernest A. Finney Jr., retired chief justice of South Carolina, and the sister of two brothers who followed their father into law, she was expected to become a lawyer.
Instead, she chose to pursue justice through poetry.
At one of her first public speeches since her return to South Carolina, she was expected to deliver a genteel address about black Southern writers. But she surprised her audience with a raw poem and startling video about the brutal killing of a young Army private.
Finney has things to say—about humanity, about harsh realities, about making your voice heard. Her poems wrap simple, beautiful words around hard, ugly truths. Warm and open, she will revel with you in what is lovely but insist that you remember what is not. She turns your face to the fire, then shows you that you have the power to douse the flames. 
"I feel no privilege as a poet—only responsibility," says Finney, back in her home state after 38 years. "I have not come home to lean back in whatever comfort one finds in an endowed chair."
Merging an upbringing steeped in social justice and her powerful gift with words, Finney is home to tell provocative truths, uncomfortable though they may sometimes be.
"I want you to come and hear my work…because you might feel like you're going to grow. You're going to leave a little different from the way you came," Finney says. "That's what art does."