×
"Smokin' Ed" Currie takes a bite out of a world record
Ed Currie is the president of the Puckerbutt Pepper Company in Fort Mill. He holds a Guinness World Record for his Carolina Reaper, the world's hottest pepper. In this video, Currie shows us what happens when you try a pepper that's 300 times hotter than a jalapeno.
×
"Smokin' Ed" Currie
Don't try this at home.
Photo by Jonathan Sharpe
×
Eating the Carolina Reaper
Ted "the Fire Breathing Idiot" Barrus and a friend try the Carolina Reaper. (WARNING: VOMIT ALERT!)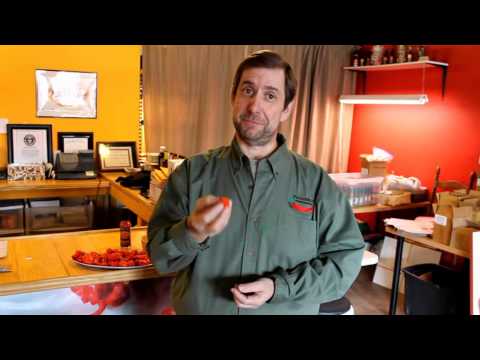 "Smokin' Ed" Currie
AGE: 50
HOME TURF: Fort Mill
OCCUPATION: President, founder, mad scientist and chef at PuckerButt Pepper Company
CLAIM TO FAME: As the breeder of Smokin' Ed's Carolina Reaper, the world's hottest pepper, Currie is the first South Carolinian to achieve an individual Guinness World Record.
HOT STAT: Currie eats five to 10 hot peppers every day.
IT GETS WORSE: "The Carolina Reaper is just the first of 19 peppers we're going to roll out that are all hotter," he says.
_____
As he stands in his downtown Fort Mill store, surrounded by chilies, hot sauces and sprouting pepper plants, the intensity in Ed Currie's voice rises, like the swelling burn of one of his peppers, when he begins talking about his Guinness World Record.
"I got the email saying, 'You're officially amazing! Congratulations! You have the new world record!' I literally fell to the floor," he says. "I was crying. I was praising God, thanking God. People thought someone had died or something."
A former banker, Currie began growing hot peppers for medical researchers studying capsaicin, the oily compound that creates the fiery burn. It took 12 years to breed Smokin' Ed's Carolina Reaper, a "super-hot" chili that registers a blistering 1.5963 million on the Scoville heat unit scale, or 300 times hotter than a jalapeno.
Perfecting the Carolina Reaper's blend of sweet, floral flavors and gut-scorching heat was a labor of love for the self-described "chilihead," the name for hard-core pepper enthusiasts who test their physical limits, and their sanity, by eating super-hot peppers with names like the Trinidad Scorpion and the Naga Viper.
While setting a new world record has been great for business—his store ships out thousands of orders a day, ranging from Carolina Reaper seeds to hot sauces made from the bumpy red pepper—Currie is even more pleased that he's creating jobs and supporting agriculture in South Carolina.
"A product from Carolina that no one knew about a year ago will be available nationwide this year," he says, shaking his head in disbelief. "It's just amazing how God works in our lives to weave that tapestry."
_____
Related: