×
Remembering when the lights came on
Edisto Electric Cooperative members Jack Morris and Mildred Allen describe what co-op power meant to rural families 75 years ago.
×
Jack Morris
Jack Morris at age 3 at the Morris homeplace in Sleytown, outside Barnwell. He notes that the house didn't have windows on the front, even though it had two doors there. "It was a big house," he recalls.
×
Like many early co-op members, Jack Morris' father, E.W.D. Morris, received a membership certificate. This one is dated January 27, 1942, although the family first received co-op service in 1941.
×
Jack Morris shared this copy of his father's May 1942 bill from Salkehatchie Electric Cooperative in Barnwell. The net bill was $4.40. Salkehatchie Electric merged with Edisto Electric Cooperative in 1973.
×
Jack Morris still has five oil lamps, including this one was from the home place. "There were many gallons of kerosene burned in it," Morris says.
Photo by Walter Allread
×
Morris refurbished this ice box, another original from the home place. The ice box had a pan at the bottom to collect melted water, he notes. The ice man came "every Friday," Morris says. For a dime, he says, you'd get a big block of ice, about 18 inches long. They'd wrap it in newspaper, then burlap, or sawdust. This particular ice box was an Eagle brand. Morris has another one, a Frigid brand, that he restored with much effort: "If you'd a-seen it (before restoration), you wouldn't even have put it in the wood stove," he jokes.
Photo by Walter Allread
×
Mildred Allen, 92, stands under an oak tree at her home, based on what her mother told her years ago, would now be about 150 years old.
Photo by Walter Allread
×
Mildred Allen has this painting, by local artist Pansy Clayton, of her grandmother's home in her den. "We had so many good times at my grandmother's house," she says.  At Christmas back in those days, more focus was put on sharing a good dinner than presents, Allen notes. As for gifts, she recalls, "Christmas was very slim. Now, Christmas is every day. I don't think people really enjoy Christmas like we did. And we had so much less."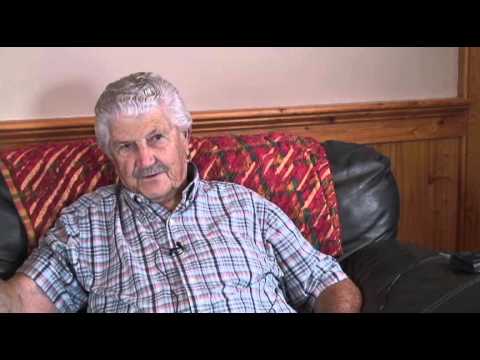 Remembering Christmas at the old homeplace
It's November 1933, and little Jack Morris— one of 11 Morris children—is wondering what Santa Claus might bring him.
No, not a video game. There was no electricity in rural Barnwell County back then and, nationwide during the Great Depression, little money.
Still, parents like Morris' found ways to give children gifts. "Usually fruit—an apple, an orange," says Morris, now 83. "There wasn't no toys."
Together, the Morris family made the holidays special. He remembers their Christmas trees. "You'd go out and cut you a little cedar sometimes," he says, "There wasn't no Christmas lights. You'd put silver tassels on it. And we used to fix a little tree to set on a desk or something, or get a hawthorn tree— you know, it's got the thorns on it—and stick the little gummy candy on the ends."
Kids made their own toys back then, Morris says. "You'd get a stick and a rim off a wagon wheel and run with it," he says. "You'd run it 'bout from here to New York! I mean, that was something to play with!"
---
Good times at grandma's house
Mildred Allen, 92, is a great-grandmother now, but thinking about the holidays reminds her of her own grandmother, Georgia Kinard Goodwin.
Grandma Goodwin's birthday was Dec. 26, says Allen. That made visiting for Christmases special—but the holidays weren't the only special times there. "We had so many good times at my grandmother's house," she says. "Everybody would go there. Everybody would carry food."
More focus was put on sharing a good dinner than presents in those days, she notes. As for gifts, she recalls, "Christmas was very slim."
"Now, Christmas is every day. I don't think people really enjoy Christmas like we did. And we had so much less," says Allen, who remembers gift-giving was very modest. "We got very, very little. I remember some of my friends saying the same thing. Maybe an apple, an orange and a box of crayons, maybe, and a little pair of scissors. We were thrilled over that! Just to get anything. It was the Depression, too. It was tough, tough."
Co-op power lit the way to a brighter future. Early members, frugal by habit, used electricity modestly. "We had one light," she says, "but everybody was so proud of that light!"
By the late 1940s, when she and her husband, the late Hagood Allen, started their family, things were looking up. "We were able to buy our children a little more Christmas. The girls would get a doll. Our son, he would get a toy truck." Plus, she says, "socks and things they needed."