×
Charleston filmmaker Liz Oakley followed members of the Dragon Boat Charleston team as they trained and raced through two competition seasons. In 2011 she released her 87-minute documentary, Awaken the Dragon, which has since screened at 13 film festivals in the United States and Canada, been broadcast in Brazil and won multiple awards. 
The paddlers in Oakley's film reflect the sport's diversity in age, physical condition, experience and expectations. Their inspiring achievements have led cancer survivors and supporters to form their own dragon boat clubs, like DragonBoat Beaufort, or to raise funds in support of cancer patients and survivors.
Awaken the Dragon is available for public viewing through a community screening campaign. Organizations such as dragon boat teams, cancer centers, support groups, churches and others can apply to host a screening event as a fundraising and awareness tool. For information on how to apply, visit awakenthedragon.com.
×
Dragon Boat Charleston is one of three dragon boat racing clubs in South Carolina. Their competitive teams include cancer survivors, those who are battling the disease, and family and friends who support them.
Photo by Mic Smith
×
Jeannie Wells, drummer for DragonBoat Beaufort, gets back to shore with dry feet, thanks to a volunteer from The Citadel at the Carolina Celebration Cup at Johns Island last October.
Photo by Mic Smith
×
Teams in the dragon boat races at the Beaufort Water Festival last summer raced in heats, four abreast, often with a costumed drummer setting the pace.
Photo by Mic Smith
×
Leslie Kendall of Dragon Boat Charleston is "the stroke" for the DBC club. She is not a cancer survivor but has been with the team since it started in 2003 and serves on its board.
Photo by Mic Smith
×
The Healing Dragons of Charlotte, N.C., prepare for the carnation ceremony at the Carolina Celebration Cup at Johns Island last October. They tossed their flowers into Trophy Lakes in honor of those who have battled cancer.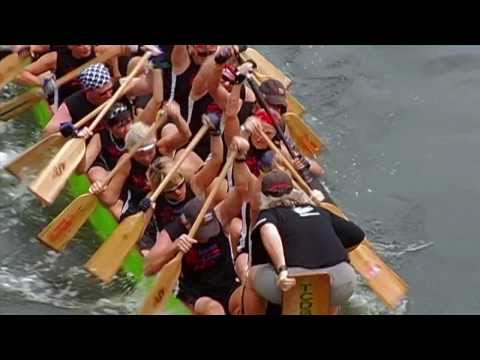 This is a story about dragons, but it's no fairy tale.
This story is about very real people like Jeannie Wells of Lady's Island. On Christmas Eve 2012, Wells learned that she had cancer.
On Christmas Day, surgeons removed a grapefruit-sized tumor from Wells' abdomen. Three weeks later, she started chemotherapy. 
Three months later, just halfway through treatments to rid her body of disease, Wells joined 20 new friends in a 44-foot-long dragon boat on the Beaufort River, all paddling to race faster, get stronger and feel happier.
In this story, the evil villain is cancer, and the brave warriors—patients, survivors, families and friends—are the resilient people who have found a way to cope with and conquer the foe through the ancient Chinese sport of dragon boating.
Part of Chinese culture for thousands of years, dragon boat racing has grown rapidly in worldwide popularity in the last two decades, particularly after health researchers discovered that the sport can boost both the physical recovery and sense of hope for cancer survivors. 
Plus, the dragon—a symbol of strength, power and energy—has become an inspiring icon for people reclaiming their lives after the ravages of cancer treatments and surgeries.
"This is like being in the same battle with comrades," says Wells, a cancer survivor and a member of DragonBoat Beaufort, one of three South Carolina dragon boat clubs.
"You're just out there paddling, moving water behind you, moving forward. It feels good metaphorically. You're part of something bigger than your cancer."
Awakening the dragon
A day at a dragon boat race is a mix of oddly compatible elements. There's the group therapy aspect, with bonding over compared scars and chemo stories, updates on friends in treatment or remembrances of friends lost. 
There's the athletic competition. Paddlers of assorted ages and physical ability join forces for about a minute and a half of intense paddling, followed by lots of cheering and celebration.
And then there's the costume party. Paddlers show up in rainbow-colored wigs, fairy and penguin outfits, animal-themed shower caps and painted faces. Cancer may be serious business, but exuberance and whimsy are key weapons in how dragon boaters do battle. 
Dragon boats first invaded the waters around Charleston in 2003, then Pawley's Island a few years later. Cancer survivors and friends in these two communities came together to race the long, canoe-like boats, painted with colorful dragon scales, to heal their bodies and spirits.
Beaufort's dragon boat team was birthed in a rush in February 2012, at the climax of the Beaufort International Film Festival.
Clare Taylor, a cancer survivor and graphic designer in Beaufort, walked reluctantly into an afternoon screening of Awaken the Dragon after the festival's director urged her to see this inspirational documentary about the Dragon Boat Charleston club. 
"I said, 'What do I care about a big boat?' " Taylor recalls. 
Taylor had no inkling that 87 minutes later, she and a friend would walk out of the screening, "all bawling and crying," to start Beaufort's own dragon boat team. By 7 p.m., they had designed and printed business cards for DragonBoat Beaufort and were recruiting team members at the festival's awards dinner.
Awaken the Dragon touched a nerve in Beaufort. Its story of regular people in nearby 
Charleston—not necessarily athletic or youthful or heroic people—who transformed themselves through dragon boating resonated with similar folks in the Beaufort area. Refusing to see themselves as frail, diminished or powerless victims, they paddled their way to becoming strong, spirited and hopeful competitors.
"These are people who, a lot of them, are still recovering, who find out you don't have to sit at home alone, moaning your fate," says Taylor, 69, a victor over breast cancer. "You get out there and get healthy."
That's part one of DragonBoat Beaufort's two-pronged mission: help participants feel better in their bodies and minds as they compete. Second is to reach out to care for cancer patients and their families in their community by delivering meals, paying for travel to treatments, handling chores or offering whatever support is needed.
"We fill in where nobody else does," says DragonBoat Beaufort president John Dickerson.
Paddles up!
The earliest days of DragonBoat Beaufort included plenty of excitement but not much in the way of equipment, funds or knowledge.
With advice and support from the Charleston club, the Beaufort team started practicing, at first with no boat and "no idea what we were doing, but so much enthusiasm," Taylor says. Their earliest paddling practices were held on land, seated on upturned buckets or stools, using brooms in place of paddles. In May 2012, they competed in their first race, at the Charleston Dragon Boat Festival, borrowing a boat from Dragon Boat Charleston.
"We were appallingly bad," Taylor says, "but we had so much fun."
Practicing twice a week, the team started winning medals in regional dragon boat competitions. Thanks to community fundraisers, the Beaufort club now has its own dragon boat, dubbed Braveheart, plus nearly 150 members, some who paddle and some devoted to outreach projects. They introduced their community to dragon boating with a new race event at the 2013 Beaufort Water Festival.
Success in dragon boating depends on one key skill, Taylor says: synchronization. Teams are made up of 20 paddlers, sitting two by two in the long, narrow boat. At the back stands the steersman, who keeps the boat on course against the current while 20 paddles push through the water. Pounding a rhythm at the front of the boat is the drummer—the heartbeat of the boat, Taylor says—whose tempo tells the paddlers when their blades should hit the water.
"You must all hit the water at the same time," Taylor says. "If you get out of sync, it's pandemonium."
Anatomy of a dragon boat team
Speed, agility and youth are not necessarily advantages in this sport; paddling in unison is 
all. DragonBoat Beaufort's oldest paddler is 85, Dickerson says. Teammates help her in and out of the boat, but once she starts paddling, "she's a beast," he says.
An advantage of having 19 teammates is that if you get fatigued and fall out of sync, you can—and should—pull your paddle out until you're ready to go at it again.
Seated at the front seat of the boat, next to the drummer, are "the stroke," the team's pacesetters. 
The center rows are "the engine room," the paddlers who deliver brute strength, Taylor says. The back rows are "the rocket," who push hard at the end of a race to get across the finish line.
Starting position is "paddles up." Paddles are hoisted vertically over the water, the paddler leaning out sideways over the gunnel to make an A frame with arms, paddle and body, bending forward so that "your nose almost touches the back of the person in front of you," Taylor says. When the command comes to "take it away," paddles stroke long, hard and deep for the 90 or so seconds it takes to cover 250 meters.
"If you feel yourself running out of steam, you are probably only 15 seconds away from finishing," Dragon Boat Charleston coach Rebecca. Gosnell tells new paddlers in training. "Dig deep and help your team cross the finish line."
A bunch of miracles
Dragon boat teams may be strictly competitive, with no link to cancer support. Others are composed entirely of cancer survivors and patients. Mixed cancer survivor teams include those who have battled cancer alongside people who have had friends or family members with the disease. John Dickerson and his wife, Erica, were motivated to join Beaufort's team because they had lost several family members to cancer and wanted to support the care givers as well.
"Sometimes those people need support just as much or more," Dickerson says. "They've just lost a family member, and they're in a world of hurt."
It's common on race days to see arms, legs and faces covered in names written in marker ink. Paddlers honor friends who have won or lost the battle, or those still fighting, by wearing those names on their bodies.
A time of remembrance, the carnation ceremony, is set aside on race day to pay tribute to all those people. Everyone gets a carnation; as a group, they toss their flowers in the water to celebrate those lives.
Considering the fact that many dragon boaters have either battled cancer or stood by someone who has, it's remarkable to hear so many say that the thing that changed their lives is not the disease, but dragon boating.
"It's the best experience I've had, and I've had a lot of them in 71 years," says Kathy Haas of DragonBoat Beaufort, a stage-three breast cancer survivor. "When you're out there, you think of nothing. It makes you free. 
"We're not talking about illness. We talk about what we have to do to win a race or to paddle better or to have fun."
Beans Kelly, coach of the Dragon Boat at the Beach team at Pawley's Island, calls her club's members "a bunch of miracles." This club is a wellness program through Georgetown Hospital System, and Kelly, 54, the youngest of her group, is the team's drummer and also the member most likely to dress in wacky outfits.
"I'd never have thought that one inanimate object could touch as many lives around the world as a dragon boat," says Kelly, a melanoma survivor. "This is pretty magical, what we're doing."
_____
Related story:
Beaufort paddler finds freedom in a dragon boat
_____
Dragon boat clubs in South Carolina
DragonBoat Beaufort: (843) 271-4212
Dragon Boat Charleston: (843) 324-9505
Dragon Boat at the Beach (Pawley's Island): (843) 237-5787