×
Cannon fire signals the start of most S.C. Civil War reenactments. Ed Harrison of Monck's Corner shields his ear from the deafening boom as the Santee Light Artillery blasts away during the 2013 Living History Weekend at Boone Hall Plantation. Although they don't fire projectiles, some replica artillery pieces can produce a crack measuring 190 decibels.
Photo by Mic Smith
×
Reenactors at Boone Hall portray the famous battle of Fort Wagner to mark the 150th anniversary of the skirmish that took place on nearby Morris Island in 1865. The mock battle included the famous charge by the 54th Massachusetts Infantry Regiment, one of the union's first African-American units. In both the real battle and the re-creation, the men of the 54th briefly succeeded in breaching the fort's walls before being pushed back by Confederate troops.
Photo by Mic Smith
×
Marching to a period drum cadence is one way Civil War reenactors immerse themselves in the military culture of the 1860s. Adherence to military rank and protocol within reenactor units is another.
Photo by Mic Smith
×
Soldiers who "die" on the field of battle remain where they fall for the duration but rise after the last shots to the applause of spectators.
Photo by Mic Smith
×
A Confederate reenactor prepares breakfast in one of the open fields at Boone Hall Plantation. For the duration of a living history weekend, dedicated reenactors live the life of Civil War soldiers, wearing only period clothing, sleeping in cloth tents regardless of weather conditions, and cooking with cast-iron pots over wood fires.
Photo by Mic Smith
×
Reenactors enjoy authentic 1860s music and dancing during the Saturday night ball at Boone Hall's Living History Weekend.
Photo by Mic Smith
×
South Carolina's Civil War reenactments draw families from across the Southeast. From left to right, Victoria Vatt, 15, from Chattanooga; Jamie Metts, 12, from Myrtle beach; Kaelynn Lewis, 13, from Summerville; and Belle Donnelly, 14, from Lake City, Fla., met and became friends during the 2013 Battle of Fort Wagner.
Photo by Mic Smith
×
Between battles, 54th Massachusetts reenactors stayed in character, enthralling spectators with songs and stories of escaping slavery to join the union Army (from left to right, Ernest Parks, David Fleming, Benjamin Blanks and James Brown).
Photo by Mic Smith
×
Provost John Nolen lays down the law in the Confederate camp.
Photo by Mic Smith
×
When the mock battles are complete, blue and gray troops shake hands, form up by units and offer a combined rifle salute to spectators.
Photo by Mic Smith
×
Veteran reenactor Randy Burbage normally portrays a Confederate soldier in honor of his ancestors, but like many of his fellow living historians, he is equipped to portray either side. "I've been doing this a long time and I've had people ask, 'Why do you want to refight the war?' I don't want to refight the war. I started because I wanted to know what my great-grandfathers experienced."
Photo by Mic Smith
×
Members of the 10th South Carolina Infantry, the host reenactment regiment for the 2013 Battle of Fort Wagner, sit around a camp fire.
Photo by Mic Smith
×
Battle of Aiken
A look at the reenactment of the Battle of Aiken. Music provided by Un-reconstructed, a band from Alabama.
×
Load and fire!
How long does it take a team of Civil War reenactors to load and shoot a replica cannon? The answer, revealed in this video from the Battle of Aiken, will surprise you.
×
Battle of Fort Wagner
This event took place on Saturday and Sunday, Nov. 9-10, 2013, at Boone Hall Plantation in Mt. Pleasant.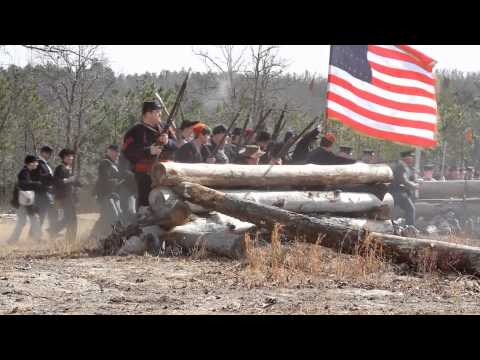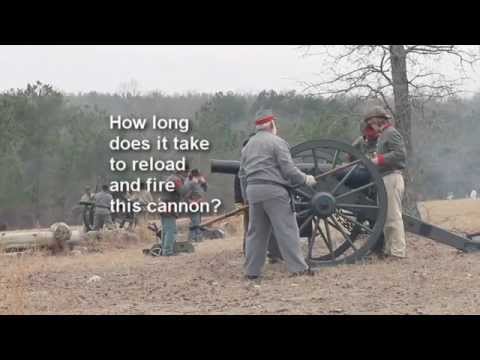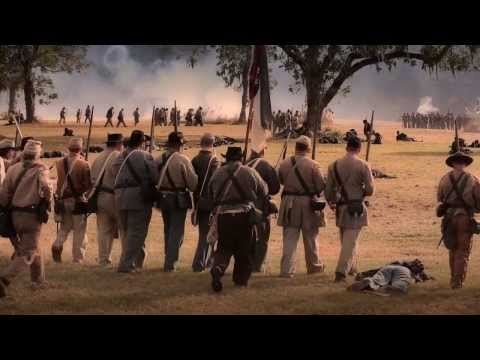 The smoke hung heavy over the battlefield and would not dissipate, not with the cannons continuously blasting.
The booms were so loud that you felt them in your chest, and after the first artillery volley, a few children and even some adult bystanders retreated from the viewing area, hands covering their ears. Others at the 2013 Living History Weekend pressed closer, hoping for a better look as Confederate and Union forces squared off in a re-creation of the famous Battle of Fort Wagner.
Each November, living historians in full period dress gather at Boone Hall Plantation & Gardens in Mount Pleasant to participate in the state's largest Civil War reenactment. The battle portrayed varies from year to year, but the 2013 event held special significance as it commemorated the 150th anniversary of the Union attempt to take nearby Morris Island. In July 1863, the rebels inside Fort Wagner staved off repeated advances by federal troops, including a courageous assault by the 54th Massachusetts Infantry Regiment, one of the first African-American units formed during the war. The attack, made famous by the 1989 film Glory, was among the bloodiest battles waged on South Carolina soil.
For spectators, it's a thrilling scene: the roar of the cannons, the stampede of cavalry, and the mock combat of soldiers in blue and gray letting out war cries and firing off black-powder rifles. But for the reenactors, these events are no mere spectacle. They are a chance to pay tribute to the sacrifice and bravery of ancestors and historical figures.
Feeling the period rush
Reenactors are sticklers for authenticity, careful to dress appropriately, respect rank, follow orders and do everything possible in a manner consistent with the past. Campfires, for example, consist only of burning logs, with no propane stoves in sight. Coffee is not consumed from ceramic mugs but instead from metal pans called coffee coolers. Soldiers cringe when a comrade lifts a cellphone to his ear during drills.
The passion for authenticity, along with the backdrop of Boone Hall's avenue of live oaks, stately mansion, restored slave dwellings and cotton dock, helps create a "period rush" that allows reenactors to feel as if they are stepping back in time to the 1860s, says Jerry Morris of Barnwell.
"That normally only lasts a moment or two, then it's gone--you're back to being a reenactor," he says.
During the 2013 Battle of Fort Wagner, Morris played the part of an aide to Union Brig. Gen. Truman Seymour. His friend and fellow reenactor, Bruce Blackmon of Laurinburg, N.C., adopted the persona of the general.
A financial aid director for a community college, Blackmon began reenacting in 2000 and has since invested hundreds of dollars in both blue and gray uniforms and the equipment needed to portray a soldier on either side of a battle. He got into the hobby to satisfy his curiosity regarding his 10 ancestors who served in different units of the Confederate Army.
"What was in their thinking? Why did they fight?" he says, noting that none of his ancestors were slaveholders. "Community spirit motivated them, likely."
More than combat
Battlefield heroics are only half the fun of this or any of the state's other Civil War living history weekends (see "Ride to the sound of the guns"). Merchants—sutlers, in reenacting parlance—pitch their tents near the camps, selling everything from lemonade and kettle corn to period apparel and reenacting gear. Military and civilian reenactors in full period attire (tip: don't call it a costume) provide lectures on Civil War history, lead church services, play music and answer spectator questions.
In their camp along the Avenue of Oaks, members of the 54th Massachusetts Company I Reenactment Regiment drew crowds of spectators as they sang and spoke in character about escaping slave plantations in the South to join the Union Army.
Two of the unit's reenactors—James Brown and Ernest Parks—are curators of the Seashore Farmers' Lodge Cultural Museum on Sol Legare Island just outside Charleston, where the 54th Massachusetts had one of its first skirmishes. Brown says he participates in reenacting to help educate others about the contributions of African-Americans in the Civil War.
"These guys are the first civil rights workers," he says. "To stand on the backs and shoulders of these brave guys, I'm quite proud."
That passion for bringing the past to life is common among reenactors of all stripes, including John Nolen of Socastee, otherwise known as Mr. H.G. Garfield, a Confederate camp provost,or military police officer. Should one misbehave at camp, perhaps by getting drunk or using foul language, Garfield will bestow upon the guilty a "log buddy."
"I'll tie a good-sized chunk of wood around their legs and let them drag it around the camp," says Garfield, explaining in a softer tone he is not entirely cruel in implementing this punishment. "I'll let you tote it in your hand. I won't make you drag it."
Unfortunately, there are times when a provost cannot show mercy. At a previous reenactment, Garfield court-martialed his own son for improperly wearing officer piping on his uniform, then arranged for a mock firing squad.
"He got right by God before he died," says Garfield, who called a preacher to administer last rites.
Respect for the past
Garfield and the other reenactors clearly have fun with their hobby, but underlying it all is a deep, solemn respect for what occurred 150 years ago, when war gripped a young country and threatened its continued existence.
Randy Burbage, chairman of the annual event at Boone Hall and a captain in the 10th S.C. Volunteer Infantry, has participated in the festival for 24 years. Reenactments are important, he says, to "let the people of the Lowcountry know what happened around here and what sacrifices their ancestors made."
_____
Related Stories
Seeing the elephant (A first-time reenactor reports from the Battle of Charleston)
Ride to the sound of the guns (Your guide to the state's top Civil War living history weekends)
Reload and fire (Bonus video from the 2013 Battle of Aiken)
The Slave Dwelling Project (Civil War reenactor Joseph McGill's project to preserve the American history represented by slave dwellings)
S.C. Civil War historic sites (Your travel guide the state's most significant Civil War sites, parks and museums)
Secrets of the H.L. Hunley (Scientists are seeking new clues to solve the mystery of the famous Civil War submarine)