×
Wayne West
Wayne West talks about border collies and demonstrates their gifted abilities.
×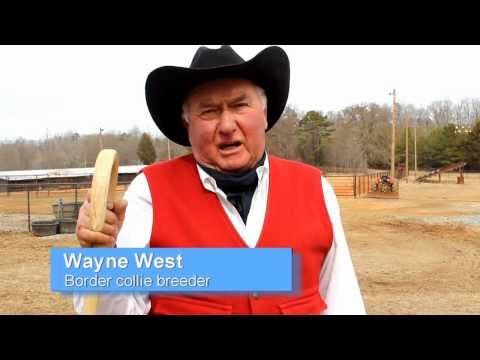 Chaser, a playful border collie who lives in Spartanburg, has been winning worldwide fame for years, wowing people with her uncanny gift for understanding the spoken word.
Nobody could be less surprised by this than Wayne West.
"They're the smartest dogs in the world," he says without hesitation. He would know—he has been breeding border collies, including Chaser, at his Spartanburg County farm since the mid-1960s.
Chaser's claim to fame is knowing the names of more than 1,000 different objects, as well as understanding the verbal commands for how to interact with them. Documentation of her unmatched accomplishments by her owner, retired Wofford College psychology professor Dr. John Pilley, led to international media interest in 2011, including appearances on NBC's "The Today Show," ABC's "World News Tonight" and the PBS series "NOVA ScienceNOW," plus multiple newspaper and magazine articles.
West sold Chaser to Pilley as a 7-week-old pup in 2004 and has ridden the publicity train with her, fielding calls from across the country from interested buyers. A new wave of attention has now arrived with Pilley's newly published book—Chaser: Unlocking the Genius of the Dog Who Knows a Thousand Words.
A trustee of Broad River Electric Cooperative, West is mentioned 24 times in the book and included in a photo. In February, "60 Minutes" sent a crew to South Carolina to interview West and Pilley and to videotape Chaser in action.
As her fans continue to be enchanted by Chaser's abilities, West sees her talents simply as the natural result of pairing dedicated training with an instinctively astute and hard-working breed of dog. He starts training pups to respond to the sound of his voice at just 4 weeks old, and his farm served as a classroom of sorts for Pilley for years before Chaser was born. Pilley would bring his psychology students to West's Flint Hill Farms to watch West work his border collies with his sheep and horses.
West grew to appreciate border collies as a young man working on an Alabama ranch. After receiving a border collie as a gift, he befriended Arthur Allen, one of the premier border collie breeders, and spent a week at Allen's Illinois home, learning the art of breeding and training these dogs.
"The more I fooled with them, the more interested I got," he recalls. West is among those who breed the dogs not to achieve a certain physical appearance, but for "what they are supposed to do—herd livestock."
"Breeders don't care what they look like," he says. "We breed 'em for what's between their ears—for their brains, herding instinct and ability. That's the reason they're the smartest dogs in the world."
_____
Get There
For more on Chaser's exploits, visit his webpage or his Facebook page.