×
Jacob Park is all smiles after winning South Carolina's "Mr. Football" award.
Photo by Van O'Cain
×
Jacob Park
Jacob Park talks about winning South Carolina's "Mr. Football" award for 2013.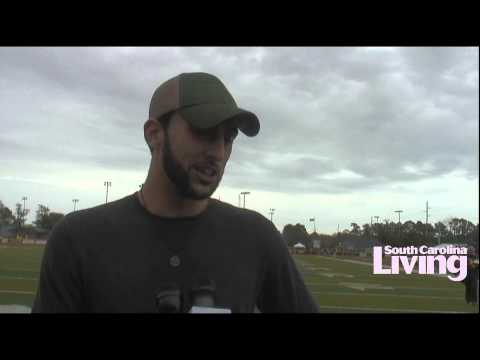 Jacob Park, a quarterback from Stratford High School in Goose Creek, is the recipient of the 2013 South Carolina Mr. Football Award. Given annually to the top senior player in the state, Park accepted the award during halftime of the Touchstone Energy Cooperatives Bowl game in Myrtle Beach.
"I'm surprised to tell you the truth," said Park, a 6' 4" senior who led Stratford to the Class AAAA Division II state championship game a week ago. "I thought Mason's (Rudolph) name was going to be called. He put the hurt on us pretty good last week."
Mason Rudolph, a quarterback from Northwestern High School who was also a finalist for Mr. Football led his team to the Class AAAA Division II title last Saturday when the Trojans beat Stratford 62-35. Rudolph threw for a state record 8 touchdown passes in the win over the Knights.
"I'm looking forward to playing with him (Park) this week," said Rudolph, who is teaming with Park in the annual Shrine Bowl of the Carolinas next week in Spartanburg. "It's going to be a great opportunity. Everyone here today could have won the award."
Other finalists for the Mr. Football award were Jae'lon Oglseby, a running back from Daniel, Latta lineman Donell Stanley and Spring Valley linebacker Christian Miller.  All five players have made commitments to play college football at programs currently ranked in the Associated Press Top 25.
"I'm just proud to take this home," said Park, who plans to enroll at the University of Georgia in January. "A Georgia guy won it last year (Tramel Terry of Goose Creek High School) and I guess I'm making it two in a row. It's really hard to believe."
Since 1995, the S.C. Athletics Coaches Association has awarded the prestigious "Mr. Football" honor to the state's top high school player. 
Previous Mr. Football Winners
1995     Jermale Kelley, WR       
1996     Kyle Young, OL             
1997     Chris Hope, DB             
1998     Derek Watson, RB        
1999     Mark Logan, QB            
2000     Roscoe Crosby, WR      
2001     Moe Thompson, DE       
2002     Eric McCollom, QB        
2003     Trey Elder, QB              
2004     J.D. Melton, QB           
2005     Prince Miller, DB      
2006     Malcolm Long, QB        
2007     Richard Mounce, QB    
2008     Stephon Gilmore, CB  
2009     Marcus Lattimore, RB
2010     Jadeveon Clowney, DE
2011     Shaq Roland, WR
2012     Tramel Terry, WR
_____
Related stories:
From Mr. Football to Mr. Popular
The legend of Roscoe Crosby: Part two