A few days before they'll face off in the Touchstone Energy Cooperatives Bowl, the South Carolina High School all-star football game between players from the North and South portions of the state, future gridiron foes teamed up to help some deserving kids in Horry County. With a $150 gift card and a player from each team at their side, 44 students from Myrtle Beach Elementary School went on a Christmas shopping spree at the Target on Seaboard Street in Myrtle Beach. The shopping spree is a part of the week-long Touchstone Energy Cooperatives Bowl experience, sponsored by South Carolina's electric cooperatives.
×
Kaitlin Pinkney ended up in the cart with her shopping spree haul as Zach Moss of York High and Josh Daniels of West Florence High drove her to the next aisle.
Photo by Travis Bell
×
Fourth grader Andre Hadley made sure he left Target with some new threads, thanks to his shopping partners Graham Smith of Dorman High and Jack Weil of Lucy-Beckham High. "It's been a good experience for him and us too," says Weil.
Photo by Travis Bell
×
Tamir Williams, a running back on his youth football team, got a new mouth guard and some other athletic gear on his shopping spree with the help of Fort Dorchester quarterback Zolten Osborne and Clinton High's Bryson James.
Photo by Travis Bell
×
Jaxson White-Mintz bought a box fan for his mom, an act that had a significant impact on Abraham Fyffe of Chapman High (right). "This experience has been unreal," says Fyffe, who partnered with Lake Marion High's Jaylin Davis on the shopping spree. "He went out of his way to selflessly buy his mom a fan, I think that's amazing."
Photo by Travis Bell
×
Pendleton High's Carlito Jones and Chapin High's Max Drag check to make sure they've gotten everything on Kason Richardson's list.
Photo by Travis Bell
×
Joshua Zuniga made sure his players, Timothy Castain of Oceanside Collegiate and Cameron Jackson of Spartanburg High, got him to the toy aisle for some Black Panther gear. "It made me feel good to be a part of this," says Jackson.
Photo by Travis Bell
×
Joshua Zuniga shows his brother, Joseph, some of the things he was able to buy with the gift card provided by South Carolina's electric cooperatives.
Photo by Josh Crotzer
×
Eighty-eight all-star football players, 44 local elementary school students and $150 gift cards made for a long line at the Myrtle Beach Target.
Photo by Travis Bell
×
Running backs Jonah Norris of Lexington High and A'Chean Durant of McCormick High had a tough time keeping up with third-grader Faith Aaron as she ran from aisle to aisle trying to find what she wanted. But they all got a rest in the checkout aisle as Faith enjoyed some stickers.
Photo by Travis Bell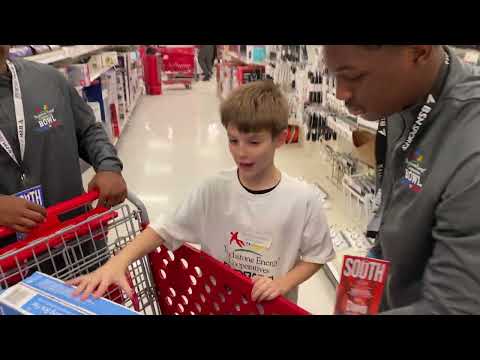 ___
Touchstone Energy Cooperatives Bowl set for Dec. 10
The state's top high school football players will face off one last time this season in the 2022 Touchstone Energy Cooperatives Bowl on Saturday, Dec. 10. The annual north-south game, organized by the S.C. Athletic Coaches Association, is the oldest continuous all-star football game in the South.
When: Saturday, Dec. 10. Pregame warm-ups begin at 10:30 a.m. Players, coaches, trainers and escorts will be introduced at 11:30 a.m. Kickoff at 12:30 p.m.
Where: Doug Shaw Memorial Stadium, 705 33rd Avenue North, Myrtle Beach, SC 29577
Tickets: Tickets are available online for $25 at TouchstoneEnergyBowl.com/tickets