×
×
2021 R.D. Bennett Scholarship Announcement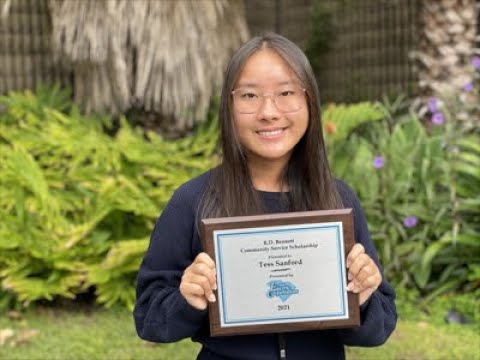 Tess Sanford, 16, of Hilton Head Island, is the winner of the 2021 R.D. Bennett Community Service Scholarship sponsored by South Carolina's electric cooperatives. Sanford won a $5,000 prize for her community service project: Jeopardy at Senior Care Centers.
Sanford was among 74 high school students who participated this summer in the Virtual Youth Experience—a five-day conference sponsored by the state's co-ops that connects young people with state and federal leaders. She and four other students were selected by Palmetto Electric Cooperative to attend the conference.
As part of the Virtual Youth Experience, students were encouraged to create and implement a community service project in their local communities. Five students, including Sanford, completed projects during the summer. The project determined to have the largest community impact won the $5,000 scholarship.
Sanford's project allowed residents at two senior care centers in the Beaufort County area the opportunity to play a Jeopardy-like trivia game. The game encouraged teamwork and memory exercise among the seniors. Additionally, Sanford collected donations for a local non-profit organization—The Deep Well Project—which provides a food pantry, rental assistance and emergency funds to residents in need.
"It was extremely rewarding to have a small but positive impact on my local community during these challenging times," said Sanford. "With limited entertainment options available to these senior residents, bringing a bit of fun and joy to their day made me feel proud of my efforts."
Sanford attends Hilton Head Island High School. She is the daughter of James and Charlotte Sanford.
The R.D. Bennett Community Service Scholarship is named for Robert D. Bennett, the first head of The Electric Cooperatives of South Carolina, Inc., the state association of co-ops. Bennett, who led the state association from 1950 until his retirement in 1980, strongly believed that electric cooperatives should support their local communities—providing a better quality of life for their members. His spirit of community service is reflected in this scholarship opportunity.