×
×
How to watch the eclipse
This video from NASA's Goddard Space Flight Center explains how to protect your eyes while you enjoy the Aug. 21 total solar eclipse.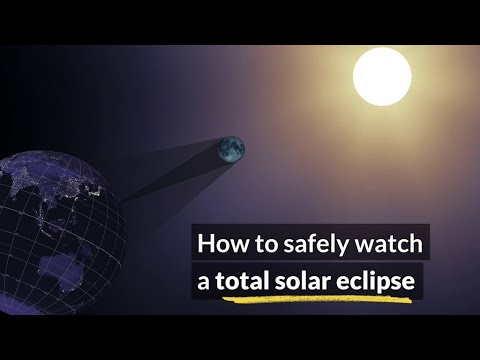 You want to see the once-in-lifetime total solar eclipse in August that everyone's talking about, right? To do it safely, start thinking about eclipse-viewing glasses.
On the afternoon of Monday, Aug. 21, South Carolina will experience its first total solar eclipse since 1970. The 70-mile-wide eclipse shadow will begin to cross the state shortly after 1 p.m. Totality—that period when the moon completely blocks all light from the sun and briefly turns daylight to darkness—comes soon after.
Only during the few minutes or seconds that totality lasts is it safe to look at the eclipse with the naked eye. Before and after totality—during the partial-eclipse phases—you must protect your eyes. That's why you need eclipse glasses.
"Even when the sun is mostly blocked, direct sunlight is visible," says Matthew Whitehouse, observatory manager at the South Carolina State Museum. "Exposing one's eyes to any amount of direct sunlight can result in permanent retinal damage or even blindness."
While some organizations will be handing out free eclipse glasses to folks who attend eclipse-related events, purchasing your own glasses guarantees you'll have the proper eye protection to enjoy the show.
It won't break your budget. Paper-framed eclipse glasses are often sold in multipacks and can be as cheap as about 50 cents a pair. Or, you can splurge on plastic frames that run $10 to $20 a pair. For about $2 apiece, you can even buy commemorative eclipse glasses with humorous space cowboy, space alien and astronaut themes. Just be sure the glasses you choose meet the ISO 12312-2 international standard for products made for direct observation of the sun and that the lenses are free of scratches.
"All certified eclipse-viewing glasses have language on the back indicating that they meet the appropriate safety standards," Whitehouse says. "Look for this language, and if it is not present, don't use the glasses."
_____
How long will I be in the dark?
In South Carolina, totality will last as little as 22 seconds in some communities and as long as 2 minutes, 38 seconds in others. Want to know if your area will experience totality and how long it will last? You can pinpoint your address on an interactive map at xjubier.free.fr/en/site_pages/solar_eclipses/TSE_2017_GoogleMapFull.html. Another website—eclipse2017.org—has a list of every community in the path of totality and the precise times totality will start.
_____
Get More
Eclipse glasses are available from online retailers like Amazon.com and eclipse‑related websites, including the following. Not all eclipse glasses on the market are safe; the American Astronomical Society has compiled a list of reputable vendors of solar filters and viewers that have been verified as safe for eclipse viewing.
Find additional eye-safety tips and lists of from the American Astronomical Society.
_____
Related stories
Total blackout – Get ready for the once-in-a-lifetime total solar eclipse sweeping across South Carolina this summer on Aug. 21.
How to protect your eyes – Proper eye protection is critical for safely viewing partial and total solar eclipses. Use these tips to protect your vision.
How to watch the eclipse – This video from NASA's Goddard Space Flight Center explains how to protect your eyes while you enjoy the Aug. 21 total solar eclipse.  
The geometry of an eclipse – See how the positions of the sun, moon and earth create shadows that give us a partial or total solar eclipse.
By the numbers: The Great Solar Eclipse – A total solar eclipse is, for most people, a once-in-a-lifetime experience. Take a look at the numbers that make the 2017 eclipse special.
Eclipse tips – First time viewing an eclipse? Get some advice about how to make the most of it.
How long will I be in the dark? – Find out what time the eclipse starts in your community and how to position yourself for the longest viewing times.
Seven tips for viewing the solar eclipse – Here's everything you need to know to enjoy the total solar eclipse when it sweeps across the state on Aug. 21.