×
×
Black History in Aviation - Capt. Dave Harris, first African-American to fly for major airline
David Harris was the first African-American to fly for a major passenger airline. Harris speaks about his experiences, sets the record straight and shares his message with young people. American Airlines presents Black History in Aviation.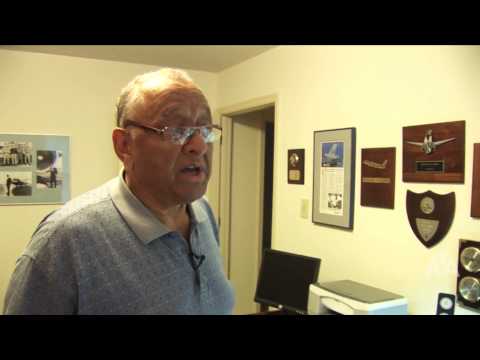 David Harris
Age: 80
Lives in: Country Haven, a fly-in community near Trenton
Claim to fame: Harris was the first African-American pilot promoted to captain by a U.S. passenger airline
Favorite toy: His 1984 Socata Trinidad single-engine airplane
Side project: Mentoring kids on the importance of education
Co-op affiliation: Aiken Electric Cooperative
When David Harris left the U.S. Air Force in 1964 with the goal of becoming a commercial airline pilot, the skies were not exactly a friendly place for African-Americans.
"I was perfectly aware that there weren't any black pilots flying with the airlines," Harris says of his determination to make a career in civilian aviation despite widespread discrimination.
After 6 ½ years of flying nuclear-armed B-47 and B-52 bombers for the Strategic Air Command, Harris was more than qualified to be a commercial airline pilot. The real question was whether passenger airlines were serious about the fair hiring practices touted in the recruitment ads aimed at military pilots. Lest his light complexion create confusion, Harris closed his application letters with this declarative statement: "I'm married, I have two children and I'm black."
"I didn't want to go with any airline that wasn't really ready to hire blacks," he says.
While turned down by some, Harris says he was eagerly accepted into the American Airlines training program by the chief pilot, who told him, "We don't care if you're black, white or chartreuse; we only want to know, can you fly the plane?"
Harris went on to enjoy a 30-year career with the carrier and in 1967 became the nation's first African-American captain with a passenger airline. Today, his uniform, hat and other memorabilia are part of the Smithsonian National Air & Space Museum's "Black Wings in Aviation" exhibit, and he's the subject of a permanent exhibit at the American Airlines C.R. Smith Museum in Fort Worth, Texas.
Harris recalls his time with American as "the best job in the world."
"It was great!" he says. "You went to work in a uniform that didn't include a parachute and a helmet, kind of like a gentleman."
Since retiring in 1994, he has maintained his interest in aviation. He keeps a single-engine Socata Trinidad at his home in the Country Haven fly-in community, where, from time to time, he helps mentor local kids.
His advice: "Study hard and get as much packed into your head as you can, because nobody can take that away from you."
Confronting segregation
Harris grew up in an integrated neighborhood in Columbus, Ohio, and graduated from Ohio State University before joining the U.S. Air Force. While he encountered little racial animosity in the military ranks, he found plenty of it outside the gates at bases in Texas and Florida, and it steeled his determination to rise above the hatred, "to do my thing and let the slurs roll off me the best I could."
That determination was tested when Harris entered the American Airlines pilot-training program. His roommate—apparently unaware that his colleague was African-American—would make racist remarks directed at others on a daily basis. Harris seethed but held his tongue and focused on why he was there.
"I had a mission to do the best I could and be the best pilot candidate they had seen," Harris says. "I certainly tried to set an example for any black candidates who were to follow me at American Airlines, but I wasn't really interested in being a torchbearer as much as I was doing well and just getting through the program."
The dedicated young pilot's career took off faster than the passenger jets he was flying. Harris rose through the ranks by working hard and taking advantage of every opportunity the seniority system offered in an expanding industry.
"I was a very lucky guy," he says. "I just happened to be hired on a timely basis when the industry was really growing fast. I became senior pretty quickly."
While proud of his accomplishments, Harris insists that other black aviators get credit for breaking into commercial aviation at roughly the same time. When Harris joined American Airlines in 1964, Tuskegee Airman Perry Young Jr. was flying passenger helicopters in New York, and August Martin was a captain with a commercial freight airline. Another former military pilot, Marlon Green, might have beaten Harris to the milestone of first African-American captain with a passenger airline, but Green's civilian career was delayed by a six-year legal battle with Continental to secure a flying position.
"I applied at American, went to school and was flying before his case was finalized," Harris says.
_____
On alert
When David Harris was flying nuclear-armed B-47 bombers for the Strategic Air Command during the Cold War, he was assigned to an air base in England where U.S. forces kept a wary eye on the Soviet Union. To keep the men sharp, commanders put the planes and crews through frequent drills. At the sound of a klaxon, Harris and his crew would sprint to their bomber, put on their flight helmets and await mission orders.
When the radio crackled to life, the cockpit crew would decode and authenticate the message. Only then would the men learn if it was a drill, a training exercise or orders to go to war with nuclear bombs. While the airmen prided themselves on their preparation and rapid response time, they began to anticipate that each scramble was just another drill, but that wasn't always the case.
"We were on alert over in England when the klaxon went off," Harris recalls of one intense day on duty. "We ran to the aircraft, climbed the ladder and sure enough, the message coming in on the headset was a preparatory message to go to war. Suddenly your whole life flashes before your face, and you say, 'Oh my God. This is not an exercise message coming through. This is a preparatory message to go drop these things.'"
Despite their worries for friends and family, Harris and his crew fell back on their training. They strapped in, fired up the engines and taxied to the runway to receive final mission orders.
"The next message could do only one of two things: launch you, or say that it's over," he says. "I want to tell you, that period of time…knowing that the next thing is either take off in anger and head to that target, or go back and shut down—that's scary."
Fortunately, the early warning signal that put the squadron on high alert was determined to be a false alarm, and after a few tense minutes that felt like days, the orders came to taxi back to the hangar.