×
How co-ops clear debris from a power line
Ashley Johnson, director of safety for The Electric Cooperatives of South Carolina, shows us what happens when ice causes a tree to fall on a power line.
×
What an ice storm could mean to S.C. electric co-ops
Scott Bryant, vice-president of business development for Cooperative Electric Energy Utility Supply (CEE-US) discusses the impact that a major ice storm could have on co-ops in South Carolina.  CEE-US supplies utility materials to the 20 distribution electric cooperatives in the state.
×
How utilities work together before a storm hits
C. Dukes Scott, executive director of the S.C. Office of Regulatory Staff, discusses how utilities, including electric cooperatives, work together before and during a severe weather event.
×
Interview from WACH-TV in Columbia
Toni Talley of WACH-TV interviews co-op safety director Ashley Johnson on how the co-ops deal with the potential for severe winter weather.
×
Charlie Murphy, lineman for Mid-Carolina Electric Cooperative, clears away a limb that has fallen on a power line.
Photo by Keith Phillips
×
Ashley Johnson, director of safety for The Electric Cooperatives of South Carolina, speaks to the media while a crew from Mid-Carolina Electric Cooperative prepares to remove a tree that has fallen on a power line.
Photo by Keith Phillips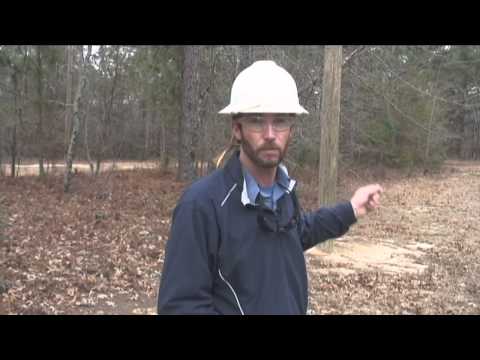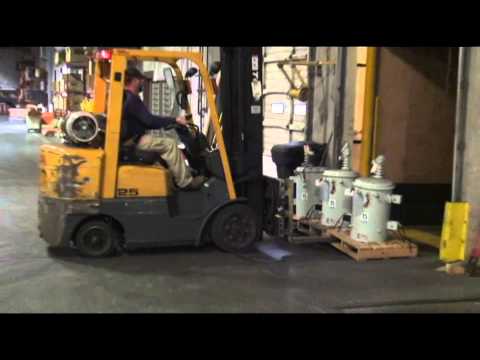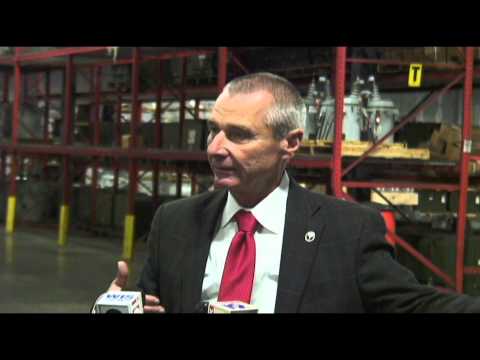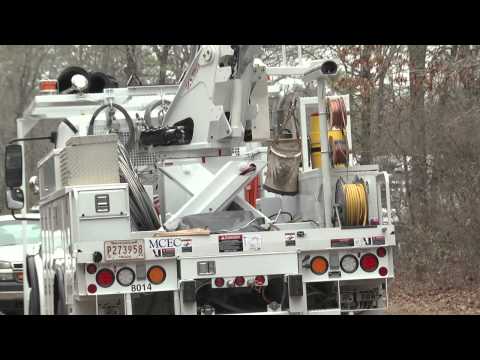 In the video above, Ashley Johnson, director of safety for the state's electric cooperatives, explains how crews restore power after ice causes trees to fall on power lines.
Johnson talked with Midlands media ahead of the February ice storm that caused widespread damage and power outages to a large portion of South Carolina.
 "Co-ops make sure your calls are all heard and taken care of as soon as possible," he says.
The primary causes of outages during winter storms are trees falling onto suspended power lines and ice build-up. A half-inch coating of ice on a power line can increase its weight five to six times, causing the cable to sag dangerously close to the ground and snap wooden utility poles.
When outages are reported, line crews begin to methodically work their way along miles of line to clear obstacles and repair broken wire and poles (see graphic above). Crews work as quickly as they can to restore power to the greatest number of people, but in the case of widespread outages, new problems can crop up as soon as old ones are fixed.
"In an ice-over situation or a storm situation, just because we come fix one temporary problem, it doesn't mean there's not going to be another temporary situation," Johnson says. "The biggest thing to remember is that help is on the way."
Storm Safety Tips
If you experience a power outage, notify your local electric cooperative immediately. Click here to find your local co-op's contact information.
If you see damaged power lines and poles, stay clear. Report them immediately to your local electric cooperative, police and fire department.
Do not approach a downed line or attempt to remove trees and branches that are in contact with power lines. Downed power lines may still carry a lethal amount of electricity and should be avoided.
Do not drive or walk under ice-covered power lines, especially those that exhibit significant sag. They may snap at any moment.
Coordinating with the state
In preparation for the February storm, Gov. Nikki Haley directed Dukes Scott, executive director of the Office of Regulatory Staff, to work with electric co-ops and other utilities to coordinate restoration efforts during the storm.
"This is a great example of the government and utilities working together to ensure the people of South Carolina are well protected," Scott says. "We're fortunate that the utilities we have— all of them— have the safety of their workers and the citizens at heart." 
_____
Get More
When the power goes out, this is how it's restored
Click here for a list of co-ops in S.C.