×
Players and students enjoy Icees and popcorn after the Touchstone Energy Bowl shopping spree.
Photo by Matt Silfer
×
Ziana Beauford picks out shoes with North squad member Cliff Gandis and South squad member Seth Branham.
Photo by Chase Toler
×
Connor McGuire, a student at Myrtle Beach Intermediate School, enjoyed his shopping spree experience. 
Photo by Van O'Cain
×
2017 Touchstone Energy Bowl shopping spree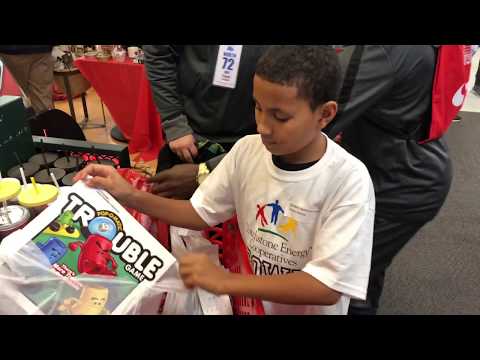 The register's total read $151. That's tough when your mission is to shop with a $100 gift card. So Corey Fields and his partner, Will Posey, made a split-second decision. They decided to use their own money to make up the difference—and make a difference for the young man they were shopping with.
"He wanted a little bit extra, so we got him a little bit more," said Corey Fields from Baptist Hill High School, who is a member of the Touchstone Energy Cooperatives Bowl's South squad. "Me and my partner (Will Posey from Eastside High School and a member of the North squad) went half and half. We went over the limit, but it's OK."
All week, these two high school football players have been on opposite sides. They're part of an annual tradition that pits the best players in the state against each other—88 players in all. But, just days before their showdown on the gridiron, the players put their rivalries aside to team up to help elementary students in Horry County. The players—one from the North team and one from the South—pair up and shop at a Myrtle Beach Target store with one of the 44 elementary students selected by their teachers for this special shopping trip. The students come armed with a shopping list that features much-needed items like coats, pants and shoes.
"Not only are they outstanding athletes, they're also young men of character," said Keith Richardson, co-director of the Touchstone Energy Cooperatives Bowl. "They know being an athlete is about more than just their performance on the football field; it's about giving back to those in need."
Connor McGuire, a student at Myrtle Beach Intermediate School, wants to be a football player when he's older. So, he was excited when he got the chance to go shopping with real athletes.
"I got a Hot Wheels truck, a Hot Wheels car and an outfit of clothes," said McGuire. "This was my first time meeting football players, and I had a lot of fun."
"It's really fun to see the joy on the kids' faces," said North squad member Coleman Smith from Seneca High School. "They're just so happy to be here with us. It's really fun."
The fun included a meal before the shopping and free drinks and popcorn after—all at no expense to the students.
For Fields and Posey, the two players who went over their $100 spending limit, the shopping trip and the chance to give a little extra was a feeling they say they couldn't get on the field.
"I know I take stuff for granted, and I know I need to stop doing that," said Posey. "It just means a lot to see these kids smile, and I know that they don't have a lot. To help them out has meant a lot to me."
I'm able to do it," said Fields. "So why not do it?"
_____
Get More