×
North all-star Trent Pearman, left, assists Anthony Saliano with looking at an item during the Touchstone Energy Bowl shopping spree at Target in Myrtle Beach, S.C.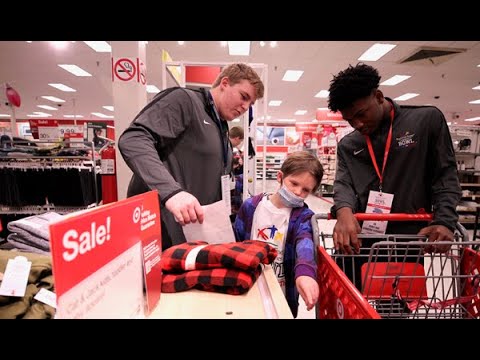 Hanahan High School running back Josh Shaw is pretty good at finding a hole to run through, but on December 9 he was in a Myrtle Beach Target looking for Pokémon cards. 
Shaw was among 88 of South Carolina's top high school football players in Myrtle Beach this week getting ready for Saturday's Touchstone Energy Cooperatives Bowl, an annual all-star game pitting players from the state's North versus the squad from the South. However, on this particular day, a player from each teamed up to assist 44 deserving kids from Horry County Schools for a Christmas shopping spree.
Shaw and his shopping teammate Chapman wide receiver D.J. Black wove through racks and aisles helping fourth-grader Zaire Washington find clothes, toys and the collectible cards popular for all ages. 
"He's obsessed with Pokémon and I loved it," says Shaw. "It was awesome bringing a smile to his face. He's a cool kid. I'm really jazzed for the hoodie he got. I wish I had it."
The outing has become a tradition during the bowl week since South Carolina's electric cooperatives began sponsoring the game. The cooperatives provide each child, chosen by school district officials, a $150 Target gift card to spend on clothes, toys and other items on their Christmas list. 
"It was great to spend time with the kids," says Daniel High quarterback Trent Pearman. "It's nothing about us. It's their day and whatever they want they can have."
Not only do deserving children receive some early Christmas gifts, it's also an opportunity for participating players to take a break from the gridiron and get into the spirit of giving. 
"Coming here to Target with the children and to see another part that you didn't see growing up is definitely an amazing experience," says Jacob Ashley, a lineman from Oceanside Collegiate Academy. "It's good to be giving back to the community. I'm blessed to be a part of this."
For some of the players, the impact of the shopping spree literally hits home. 
"It was great to be with these kids, especially being from Myrtle Beach," says Adam Randle, who plays for Myrtle Beach High School. "Some of these kids are not as fortunate as us, so I'm just happy to create a good memory for them, especially around Christmas time."
Touchstone Energy Cooperatives Bowl executive director Scott Early hopes the memory is lasting for the players as well. 
"As much time as we spend helping them improve as football players, we want them to be even better men," says Early. "The shopping spree allows them to see first-hand the good that they can do as leaders in their community."
___
Get There
When: Dec. 11. Kickoff at noon.
Where: Doug Shaw Memorial Stadium, 705 33rd Avenue North, Myrtle Beach.
Tickets: Advance-purchase tickets are available online until noon Friday for $20 at TouchstoneEnergyBowl.com/tickets.