×
The President Awards the Medal of Honor to Corporal William "Kyle" Carpenter
Watch the entire Medal of Honor ceremony for Kyle Carpenter in this video clip, courtesy of the White House.
×
National hero
"You're not going to get a better example of what you want in an American or a Marine," President Barack Obama says of Medal of Honor recipient Kyle Carpenter.
Official White House photo by Pete Souza
×
Hall of Heroes portrait
This is the official photo of Kyle Carpenter that will be included in the Pentagon's Hall of Heroes exhibit featuring Medal of Honor winners.
Photo courtesy of U.S. Marine Corps
×
Right of line
Carpenter's position to the right of the president during the ceremony was a symbolic recognition of his status as America's champion warrior.
Photo courtesy of U.S. Marine Corps
×
Apologies to Fox News
A seat in the second row gave writer Dik Daso a prime vantage point to take camera phone pictures like this, but there was one glitch. "I understand that I frustrated the Fox News cameraman by taking a few snapshots during the ceremony," he says.
Photo by Dik Daso
×
U.S. Marine Corps
USMC flag ceremony
The following day, Carpenter was presented with his Medal of Honor flag at the U.S. Marine Corps Barracks. He then reviewed his fellow Marines, saluting each unit as they passed. The parade was unusual in that it was made up of only enlisted Marines, in deference to Carpenter's retired rank.
Photo courtesy of the U.S. Marine Corps
×
Hall of Heroes ceremony
In a Pentagon ceremony, Carpenter was enshrined as the most recent Medal of Honor recipient. His name is now listed along with other legendary Americans, including Joshua Lawrence Chamberlain (1863, Gettysburg), Jimmy Doolittle (1942, Tokyo Raid), Audie Murphy (1945, Europe), and nearly 3,500 others who received the medal for valor.
Photo by Dik Daso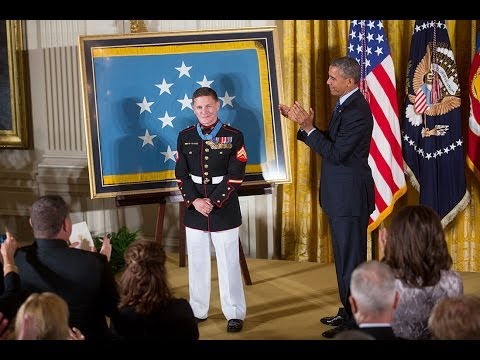 About a month ago, I received an email message from the headquarters of the United States Marine Corps requesting that I contact them ASAP.
A young captain answered the phone crisply and informed me that I had been invited to attend a very special ceremony in Washington, D.C., on June 19, 2014. One of my military history students at the University of South Carolina—retired Marine Kyle Carpenter—was to receive the Medal of Honor, our nation's highest military award for valor. Kyle had invited me to join a gathering of about 75 individuals that included his family, Marine Corps comrades, medical team members and fraternity brothers for the three-day event.
"Captain, are you serious?" I asked.
"Absolutely, sir," she replied. "Kyle would like you to come up for the ceremony."
Kyle Carpenter—unassuming and thoughtful; cheerful and humble; diligent and deferent—was to receive the Medal of Honor. I was home with my playful pugs, Roscoe and Zeus, who looked up at me with heads tilted to the right like perfect bookends as if to ask, "Why are your eyes all full of tears?"
_____
I retired from the United States Air Force in 2001, two weeks prior to the terrorist attacks of Sept. 11. I was working as a curator at the National Air and Space Museum and was in Washington, D.C., on that horrible day. From the museum rooftop picnic area, I saw the smoke rising from the Pentagon after Flight 77 crashed there. The war that began that day is the war Kyle Carpenter nearly died fighting on Nov. 21, 2010, when he dived on an enemy grenade to shield a fellow Marine from the blast.
As an Air Force Academy graduate and career military officer, I understood the significance of the Medal of Honor. I learned about the medal by studying the epic ordeal of Air Force Academy graduate Capt. Lance Sijan, a Vietnam POW who was killed trying to escape from his captors.
I also hold a doctorate in history from USC, where I am now an adjunct professor of American history. I met Kyle during his freshman fall semester in 2013. He sat a few seats back on the far left side of my 35-seat classroom, the extensive scars of combat unmistakable and unhidden.
Kyle's injuries were so severe that he flatlined on three different occasions during his evacuation from the combat zone near Marjah, Afghanistan. A brilliant team of military medical professionals—combat medics, surgeons, dentists and therapists—literally put him back together one bit at a time.
While I was working at the Smithsonian, I served as a member of the curatorial team that created the first comprehensive American military exhibition in the history of the Institution— "The Price of Freedom: Americans at War." Part of the gallery is a Medal of Honor display and database kiosk for visitors. At some point before I retired from the Smithsonian, Kyle's name came to my attention when reports of his brave actions during Operation Enduring Freedom came across the news wires.
It took me a few classes to put the puzzle together, because all my rosters listed Kyle as "William K. Carpenter." On the first day of class, I always ask how many of my students are military veterans. Kyle raised his hand along with three other vets in the room. On a hunch, I Googled him and finally made the connection.
I was not surprised to find that Kyle had been wounded in combat, but I was astonished to read that he had been nominated to receive the Medal of Honor. Nominations are not discussed publicly unless there is a reasonable chance that the Secretary of Defense will endorse the award. Kyle hadn't said a word about the nomination to anyone.
At our next class period, I asked Kyle to "remain after school."
"Kyle, at some point during the semester I'd like to tell your classmates about your service," I said. "Would that be OK with you?"
"What do you mean?" He sort of looked away for a second, and if he could have kicked a pebble on the ground, he would have.
"The nomination for the medal," I said.
"How did you know about that?" he asked.
"Well, I am your military history teacher," I replied. "I'm supposed to know about this stuff, right?"
We both chuckled just a bit. I think this was when Kyle and I began connecting. It was the start of my most cherished student-teacher relationship—born in the classroom and shaped by the mutual respect of military service. He agreed that I could, at some point, let the rest of the class in on the story.
I chose Veterans Day to reveal Kyle's heroism to the class.
I had a few lecture items to clear up from the previous class but eventually got to the slides on the history of Veterans Day. Approaching the end of class, I read a basic account of Kyle's fateful day in combat—without using his name—and ended it like this:
"For his actions in combat that day, this young Marine has been nominated to receive the nation's highest award for valor, the Medal of Honor. And he is sitting here with us today. He is one of your classmates—Kyle Carpenter."
The quiver in my voice was obvious as tears welled in my eyes.
After a moment of complete, jaw-dropping silence, the students began to clap, and all stood, turning toward Kyle. Many shook his hand in congratulation: "Way to go, man!"
Prior to class that day, none of the students were aware of the reason for his scars. I am pretty sure that by now most folks at USC will recognize Kyle and his selfless sacrifice.
_____
Since 1861, the year that the Medal of Honor was officially established, fewer than 3,500 medals have been awarded. Today, there are only 79 living recipients. Kyle Carpenter is the youngest of these. There was absolutely no chance that I was going to miss the event.
The ceremony took place in the East Room of the White House. As we were ushered in, I waited for most of the others to enter and took a seat at the back, near the presidential portrait of another Medal of Honor recipient—Theodore Roosevelt, who earned his commendation during the Battle of San Juan Hill in 1898.
But fate intervened, and a member of the Marine Corps staff asked a few of us to fill in some gaps in the seating. I found myself following the staffer up the aisle, past the generals, past the family, just around the South Carolina legislative delegation, and around to the left-hand middle aisle, second row.
I was within 15 feet of the very place where a singular piece of American history was going to take place. Yet, there was an element of comfort and familiarity in taking that seat, as it was in the midst of Kyle's family and friends who had come to Washington from across the country to support and honor our nation's newest hero. To many of us in the room, the young man being honored with a formal White House ceremony was still just Kyle. But that was about to change.
From this day forward, honoring military protocol and tradition, all of our meetings will begin with a salute—I will render the greeting due all Medal of Honor recipients, regardless of rank, and he will respond.
Soon the golden-voiced narrator announced the arrival of the president, first lady and Cpl. Kyle Carpenter. The room stood in unison, but it was anything but quiet. On risers behind the seating area stood the press corps—I estimate that there were between 50 and 70 cameras and more than 100 journalists covering the event—and the room filled with the sound of camera shutters.
After a thoughtful opening prayer by the chaplain of the Marine Corps, President Barack Obama spoke of Kyle's courage—in combat and during his long recovery. The commander in chief even joked about Kyle's twitter name: @chiksdigscars. He took full responsibility for ordering the deployment of Marine Corps units into combat in Afghanistan and acknowledged the military medical team that saved the young corporal.
While the president spoke, Kyle reacted to the words, first somber, then seemingly embarrassed, and then he revealed his awesome—I've heard more than a few ladies call it "adorable"— reconstructed smile.
Then came the reading of the citation and the award of the Medal of Honor. The president joined Kyle at center stage, and a Marine major carried the medal forward, holding it at arm's length for all to see. Kyle stood at attention, his face focused, hands clenched, thumbs aligned with the seam of his dress-white uniform trousers, eyes locked forward. The president's chin lifted slightly, his eyes beaming straight ahead, as he listened to the description of Kyle's selfless actions on a dusty rooftop in Afghanistan.
The lineup on the platform held a special significance that many people might have missed. Kyle stood in the "right of line" position. Military tradition holds, as in the days of the ancient phalanx, that the strongest and bravest warrior anchor the front right corner of the formation. Kyle stood at the right hand of the president, a position recognizing him as America's champion warrior.
When the reading was complete, the president carefully grasped the powder blue ribbon that holds the medallion, stepped behind Kyle and fastened it around the young Marine's neck. The medal hung slightly off center. Fittingly, it touched the Purple Heart commendation awarded to Kyle in the hospital three years earlier.
Then there was a swell of applause, some tears and that wonderful smile. Kyle now wore the medal reserved for the bravest of the brave.
_____ 
I feel completely humbled and honored to have been invited to attend the ceremony. It was a privilege I will cherish for the rest of my life.
As I write this, barely 48 hours after the president draped the Medal of Honor around Kyle's neck, I am still experiencing a tidal wave of emotions.
Kyle is the same age as my own children. I cannot imagine the strength and courage required by his parents, Robin and Jim, to cope with the horrific wounds Kyle suffered and the lengthy recovery process. I admire them both more than words can say.
As a veteran, I was overwhelmed by the significance of the award ceremony and the patriotic tradition it represents. I am moved whenever I think of the sacrifice made by a 21-year-old man for a fellow Marine and friend. In a flash, his physical body was shattered, and he will carry the scars forever. This is both the dark side of war and the glory of war, wrapped up in the struggle of one young Marine.
As a military historian, I recognize that I was present at a time and place that will live forever in our national consciousness. Kyle is now officially an American hero, an example of valor, and our newest spokesman for the virtues of service above self. It seems tragic to me that such youthful sacrifice is required to carry forth such a simple, yet important, message.
I am certain that I have not wrapped my arms around the many layers of emotion, but I do know this: It has been my greatest privilege as a teacher to claim Kyle as my student.
Dik Daso is a retired U.S. Air Force command pilot and retired curator of modern military aircraft at the Smithsonian's National Air and Space Museum. He currently teaches American history at the University of South Carolina.
_____
Related stories