×
Lineworkers Bruce Sapp (left) and Matt Hickey (right) of Clay Electric Cooperative came from Keystone Heights, Fla., to help rebuild broken power lines in Colleton County.
Photo by Walter Allread
×
Gov. Nikki Haley speaks to reporters after touring storm damage in Colleton County with (center left to right) Dukes Scott, executive director of the Office of Regulatory Staff; Keller Kissam, president of retail operations, SCE&G; David Felkel, CEO of Edisto Electric Cooperative; and Larry Hinz, CEO of Coastal Electric Cooperative.
Photo by Walter Allread
×
Repair crews from the state's 20 electric cooperatives were a welcome sight in the aftermath of the storm. Aiken Electric Cooperative members Larry and Joyce Wood had nothing but kind words for the lineworkers, even after two days without power.  "Praise the Lord," Joyce Wood said. "We knew they were doing all they could, as quickly as they could, but it takes time to restore stuff."
Photo by Keith Phillips
×
Before Berkeley Electric Cooperative crews could repair damaged lines near Cross, S.C., fallen trees had to be hand cut by the co-op's right-of-way contracter, Lucas Tree Experts.
Photo courtesy of Berkeley Electric Cooperative
×
The news media kept electric cooperative members informed about the storm and the power-restoration efforts. Even before the first snow started falling in the Midlands, Ashley Johnson, director of loss control and training at The Electric Cooperatives of South Carolina, showed Columbia news crews how co-ops would handle repairs to damaged power lines.
Photo by Keith Phillips
×
S.C. electric cooperatives prepare for severe winter weather
Ashley Johnson, director of safety for The Electric Cooperatives of South Carolina, shows us what happens when ice causes a tree to fall on a power line.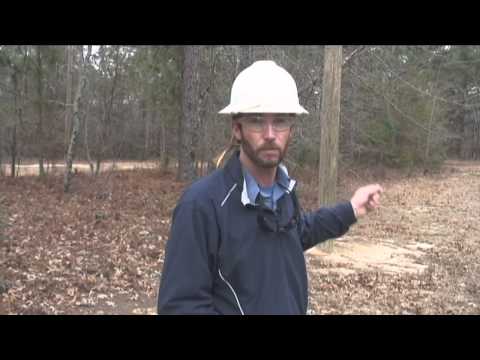 What a difference a week makes!
As I write this—Tuesday, Feb. 18, at 1 p.m.—it's 64 degrees and sunny here in Columbia. This time one week ago I was picking up my children early from school due to a weather-related dismissal and helping your cooperative get ready for a band of snow, sleet and freezing rain that would ultimately interrupt power to one out of four S.C. cooperative members.
While several co-ops continue to restore electricity to the hardest-hit regions, they are very close to finishing this monumental task. How did our cooperatives restore power so quickly after an ice storm that did more damage to the grid than Hurricane Hugo? Answer: With lots of help.
Join us in thanking the more than 700 lineworkers who came from Kentucky, Tennessee, Mississippi, Florida, North Carolina and Virginia to help our local crews get the power flowing again, not to mention the countless co-op employees who expedited the supply of materials, meals and accommodations they needed to get the job done. Gov. Nikki Haley said it best as she toured the state in the immediate aftermath of the storm: "The linemen across this state have angel's wings."
The governor and other state officials, especially Dukes Scott, executive director of the Office of Regulatory Staff, also deserve our thanks. They all worked closely with co-op CEOs to bring the full resources of the state into play whenever it was needed to speed the restoration work. Whether it was traffic control in the vicinity of work sites or the coordination of state agencies with 20 local electric cooperatives, this past week has been a model of government that works.
The challenges that nature can throw at us are daunting. It's nice to have friends who help!
_____
Related: